The Funi panel was underway when I came in, but thankfully, found a seat near the left middle so I can take pics of the screen at the side. I think the only thing they started doing was the trivia questions with prizes. The speaker was Michelle Lee, the Social Media Manager at Funimation.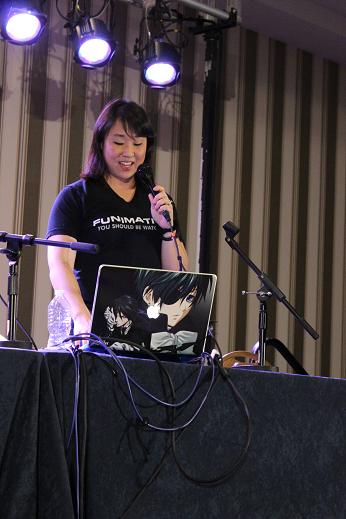 Funi is all over the interwebs! Lee plugged the Funimation Blog which they'll post their news. Any new titles, cast announcements will be posted to the site. Funi is also on Facebook, Twitter and youtube. Most recently, Funimation has entered the social media of on Instagram and Tumblr. As said, Funimation is EVERYWHERE.
Besides the news, fans can watch Funimation titles on itunes, Netflix, Xbox, Playstation, Google Play, Hulu, Amazon Instant Video amongst many others services. For tv fans, there are many Funi titles on Toonami. *audience cheers* Titles include the newly release Space Dandy, One Piece, Soul Eater, FLCL and Fullmetal Alchemist: Brotherhood.
Since October, Funimation.com has a new look. There is an Elite Video subscriber plan which grants access to 'over 9000 videos' which are HD, uncut and commercial free. Elite subscribers also are given access to dubs before they're release to dvd/bluray. Series include Nobunagun, Robotic Notes and the English dub of Psycho-Pass will be available in late February.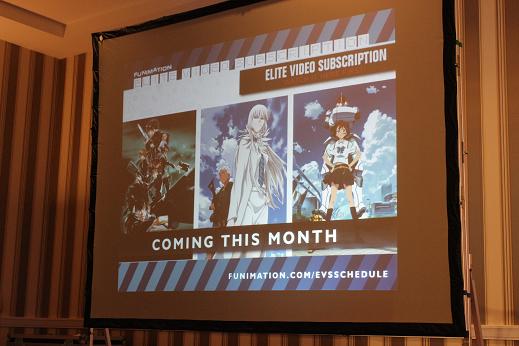 Simulcast info include the continuation of One Piece, recent continuing titles of Tokyo Ravens, Toriko as well as new titles of Noragami, Nobunagun, Space Dandy amongst others. All can be found on Funimation.com simulcasts. Due to changes with subscriptions, you have to be an elite video subscriber to watch the simulcasts the day it releases. Non-subscribers will need to wait a week to watch it for free.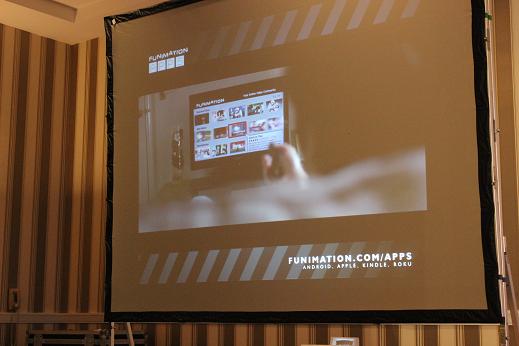 A video was shown to demonstrate the Funimation app which is available for the Android, Apple, Kindle and Roku. If you have an Elite Video Subscription, it can be added to the app to access all your videos anywhere.
Now open is the Funimation shop so fans can buy direct. Elite Video Subscription is only $7.95 a month and currently, there is an EVS Special promo for a 30 day free trial. (Trivia question of EVS subscription price: a fan took home a Hellsing shirt.)
Lee show a video of the the Funimation Show (which is also available on youtube.) It shows the behind the scenes look at Funimation in the studio with voice actors, in production and convention footage.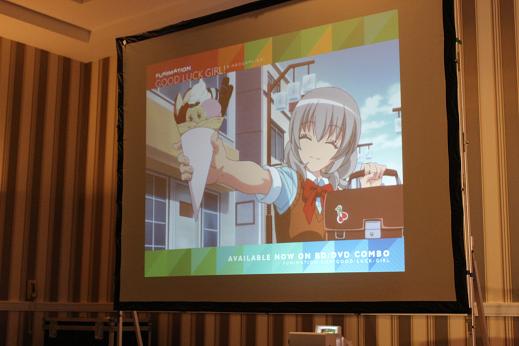 New releases! The satiric comedy, Good Luck Girl! will be a BD/DVD combo. The trailer was filled with anime references to Lupin III, Dragonball Z and the like. Also on a BD/DVD combo and DVD release, One Piece: Strong World is available now.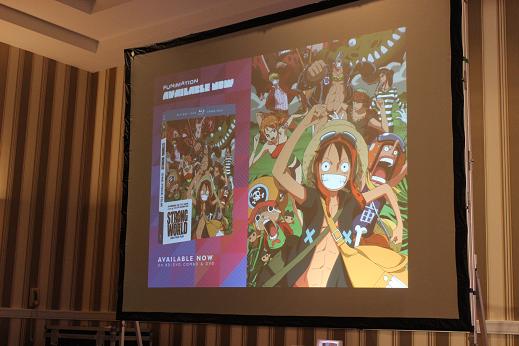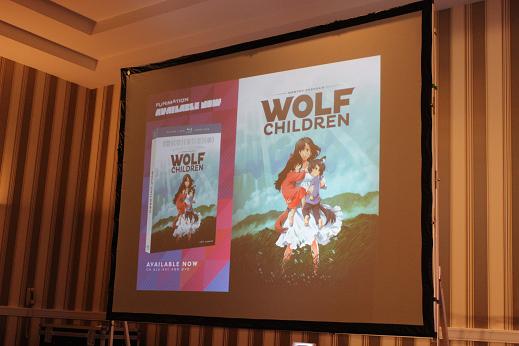 For those that like to cry over beautiful things, Wolf Children is currently available on BD and DVD. (Trivia: Name one other movie by the director of Wolf Children. For the answer of Summar Wars, the fan took the A Certain Magical Index iphone case. ) The screening for the movie will be shown tonight at 5:30pm.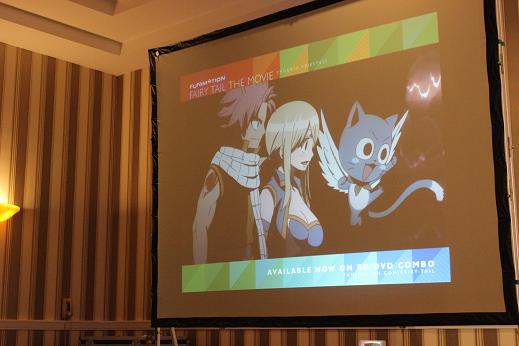 The movie trailer for Fairy Tail: the Phoneix Priestess was shown. The BD/DVD combo is available now. Convention promo! With three Fairy Tail titles, a poster that is autographed by the English cast and the director will be given. Similar promos are available for other titles.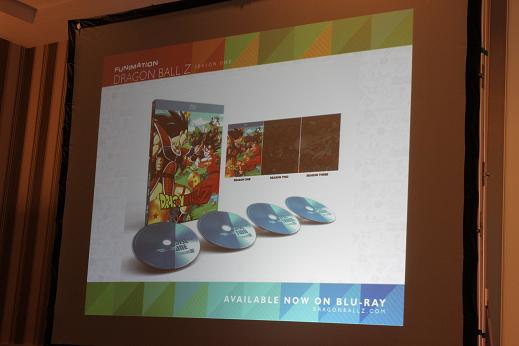 More Dragon Ball Z for BD! Season one is currently available. Once lined up with Season two and three, a panel picture is shown. The trailer has a Toonami kind of feel, a slow, grungy mix. Kind of cool really with a nostaglic feel…appropriate for the series.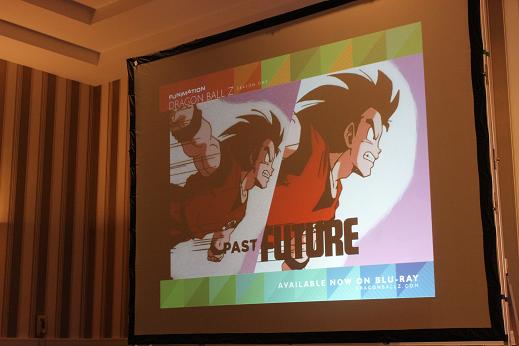 Ikki Tousen on dvd is available now with part 2 at the booth.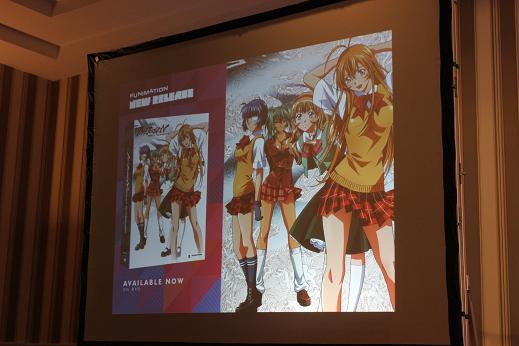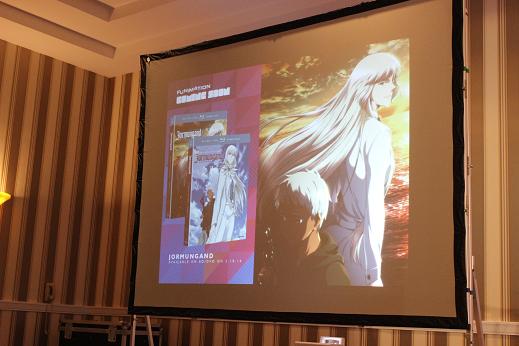 Coming very soon! From Black Lagoon creators, Jormungand will be released on BD/DVD on 2/18/14. From the director of Fruits Basket, Kamisama Kiss' special addition is released with Nanami's ornamental hair stick, Tomoe's omamori, a folding fan, tote bag and seven postcards in a BD/DVD combo. Part one of the BD/DVD combo of Robotic Notes will be released on 2/18/14 but the Funi booth has copies available at the con.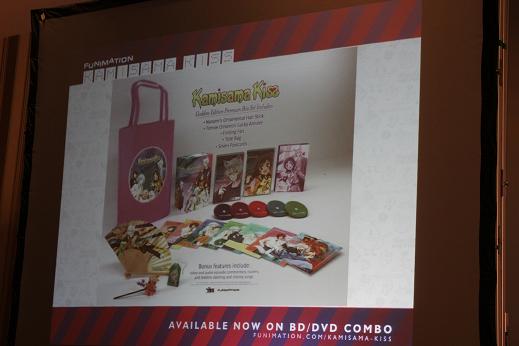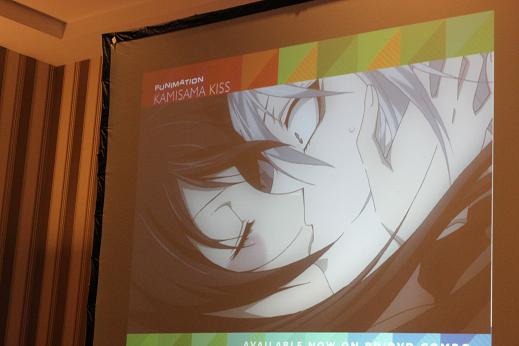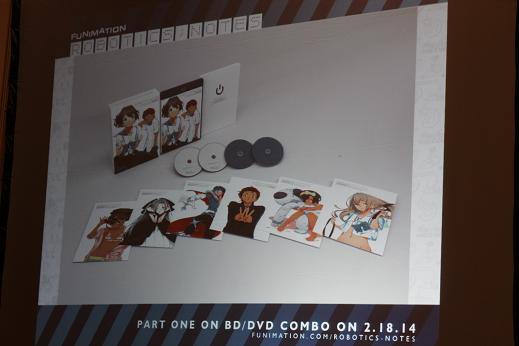 The amazing BD premium edition of Psycho-Pass will be available on 3/11/14. The BD will including ep. 1-22, comentaries, textless OPs and EDs, trailers and the Psycho-Pass events at Sakura Con 2013. The extras include OST on 2 cds, criminal investigation division leogo decal, id holder, card case/keychain. (A set is available on display at the Funi booth.)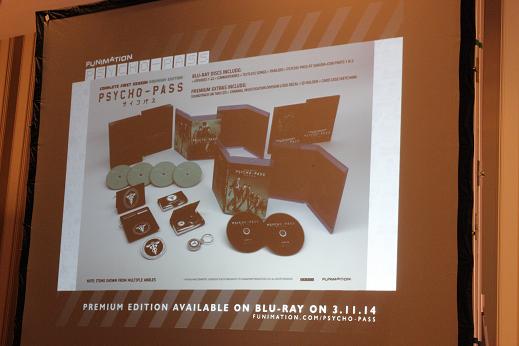 News and announcements! As mentioned before, Space Dandy is on Toonami. It is the first time that a dubbed show is airing at the same time it is being broadcast in Japan…an almost simultaneous release! The funky trailer of Space Dandy was shown filled with color and lights. (Trivia: when does Space Dandy air on Toonami? To the answer of 11:30pm saturdays, the fan received a Robotic Notes deskmat.)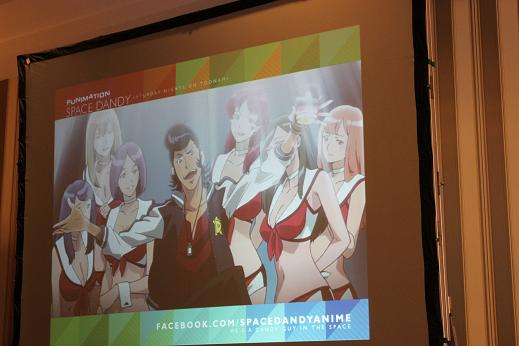 Black Lagoon will be entering the Toonami lineup on 3/22 at 1:30am, taking the spot after the end of Soul Eater.
Funimation acquires the streaming rights for Ben-To. Episode 1 and 2 subs are available now for subscribers with free streaming on 2/28. The discount bento brawl free-for-all series aired in Japan in Fall season 2011.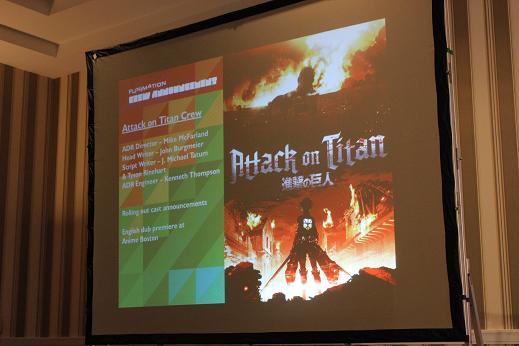 Crew announcements! The fans cheered as Attack on Titans appeared on the screen. Mike McFarland will be the ADR Director with John Burgmeir as head writer, J. Michael Tatum and Tyson Rinehart as script writers and ADR Engineer Kenneth Thompson. Cast announcements will be made all the way up to Anime Boston where the English dub will premiere.
The floor opened for Q&A.
Q: Working at Funimation….
A: Monster.com. Jobs are actually listed there.

Q: Any date for when the third Evangelion movie has been pushed back to?
A: No, there have been news on Eva 3. As soon as we ave any info, we'll let you know.

Q: Any plans on releasing Space Dandy on the Funimation channel or Hulu?
A: Adult Swim has the rights to the dub at this moment. It should be available streaming on their site. But you can also purchase it on itunes and I think the Xbox and Playstation as well.

Q: Is there an app for the PS3?
A: No, we don't have console apps at the moment, but we are working on them.

Q: Question from fandompost, has there been any discussion for Funimation to start doing manga?
A: Not at this time. Anything is possible, but we don't have plans for a manga division.
At the end of the panel, I asked about the Conan licenses. There have been no news about new licenses of the series or movie. I discussed the possibility of sub only releases with such a large series such as Conan. OniAi is Funimation's first subtitle-only release and they haven't gotten the feedback from the sales yet. However, if it goes well, subtitle-only may be an option that they'll look into. Michelle encourages fans to promote titles via their social media network sites and if its an idea that will gather more following, than they'll look into licensing it.