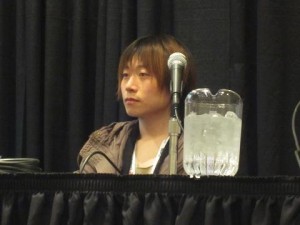 Marketing VP Robert Newman opened the panel by greeting the crowd. They handed out the special clearfiles of Soredemo Machi wa Mwatteiru aka. And Yet the Town Moves that Ishiguro-sensei designed for NYCC. A quick runthrough of Jmanga was given. Its a site supported by 40 major Japanese publishing companies and the goal is to get manga and manga culture out to as many people as possible. Working closely with the publishers, editors and artists, manga can be published digitally, granting fans access to series that otherwise wouldn't see a print release anytime soon. Their presence at NYCC is a thank you to fans and supporters of Jmanga…also to present their special guests, mangaka, Ishiguro Masakazu-sensei and his editor, Ohno Masahiro-san (whom Newman describes as shy. *Ohno-san hides his face in shyness*)

There were some major giveaways…that would help alot if people could use their phones. Such a smart idea: present a phone number and the first person who gets through the number at the giveaway time can receive the prize. Alas, since we're in the lower floor and the Javits totally hates cellphones as the majority of us couldn't use our phones. So we had a danceoff later on instead.
Besides the danceoff (held later,) Newman taught us a bit of Japanese…and to give away prizes. He gave away two dvds for Soremachi to people who shouted 'Mitai!' or 'I want to see!' the loudest. With the calls of 'Hoshii!' or 'I want it!', two iphone covers were given.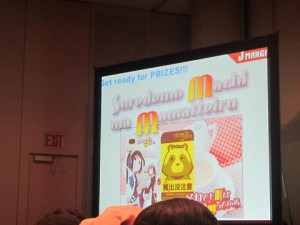 Mangaka Ishiguro-sensei is known for his distinct character designs and detailed backgrounds. I find that he is also known for his comedic storytelling style that is reflective in all of the works that he do, regardless of the genre or subject matter, one of the most unique being his mixture of horror and comedy.
Soremachi is about a highschool girl, Arashiyama Hotori who is working as a maid in a coffee shop turned maid cafe. The story surrounds the mishaps that Hotori and her friends gets into, mostly comedic, funny and touching at times. The situations can surprise you with the usual mixture of love, jokes and a bit of the mysterious with spirits…which suits Hotori just fine since she has a perchance for mystery. Jmanga released up to volume 9 thus far with the promise of vol. 10 not far away. Sentai Filmworks released the complete dvd with the 12 episodes.
Another release by Jmanga is the highly anticipated Present for Me, a collection of short one-shots by Ishiguro-sensei with a sci-fi, dramatic and comedic twist.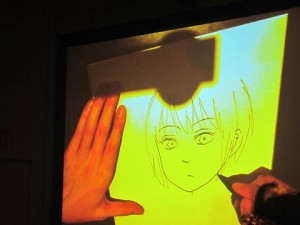 Ishiguro-sensei was asked to draw, but unfortunately, the setting of the light wasn't the best. Everything was bathed in a yellow glow due to the light above the stage…and we couldn't see anything until Ishiguro-sensei lifted the paper towards the projector. (Newman: Can anyone shoot out that light? *audience laughs*) The fans were very patient as Ishiguro-sensei graciously worked with the settings around him. To the thrill of the crowd, he drew Futaba Kon-senpai from Soremachi. The fans were asked to say 'Kawaii!' to win this rare prize. Much shouting and jumping later, Ishiguro-sensei wrote the winner's name onto the piece as well as his own before giving it it him.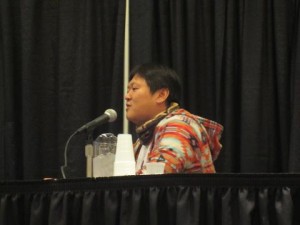 Newman began the Q&A with his own questions:
Q: Why did you become a mangaka?
Ishiguro: I really love manga and the only way I could go, is to become a mangaka. When all my friends who graduated highschool were entering companies, I felt that it was time for me to do something about being a mangaka. At that time, I submitted something to Kodansha and it got printed.

Q: How did you get your inspiration?
Ishiguro: The things that I see in everyday life, I see something interesting and I wonder what it would be like to be in manga so I draw it. I draw my manga in the bath. *audience laughs* In the bath with the water up to my chest, I have my board and put my paper on top of it to draw. I dropped my pen into the bath before, but never the paper.
Fan: How long does it take for you to draw in the bath?
Ishiguro: About two hours.

Q: How do you get inspiration for your characters in SoreMachi?
Ishiguro: I mainly get them from people I meet in everyday life, and bits and pieces end up into the characters.

Q: Do you have any particular strong feelings or emotions towards SoreMachi when it comes to editing it?
Ohno: One of the reasons I enjoy editing SoreMachi is that Ishiguro-sensei appears to be a shy guy, but once you get to know him, he is a really open and talkative guy. I hope that the audience will also get to know him [Ishiguro-sensei] more.
The floor opened for questions from the fans.

Q: You mentioned that you like to draw in the bath, is there any bath you like to go into usually? Personal? Public? *audience laughs*
Ishiguro: Personally, I like to take baths in my home. When looking for places to live, I always check to make sure that it is a proper bath…for drawing. *audience laughs*

Q: Have you considered editing Soremachi in a bath? *audience laughs*
Ohno: It is a great idea, I'll consider it. On several occasions though, we had meetings in saunas.

Q: Over the years, Shonen-gahosha had a healthy relationship with American publishers: with Trigun, Hellsing. How do you nurture a relationship with North America?
Ohno: Generally speaking, the content that we create is for Japanese audiences: they're created in Japan for with them in mind. I'm interested in seeing manga created for a foreign audience. I'm interested in seeing new works from new artists. If anyone wants to send things to Jamanga.com, they'll take a look at it.

Q: Soremachi is long, but it's still a collection of short stories and Present for Me are also short stories. Do you have plans for a longer series?
Ishiguro: I'm always interested in creating a long series. Early on, I ended up working on short stories in place of other artists who couldn't get in their work on time. When I was doing that, I realized that I had a knack for doing short stories. I have a story that I would like to do, but I can't do it until Soremachi is no longer serialized.
To switch things up a bit, Newman gave out vol. 10 to the one who shouts 'Yomitai!' or 'I want to read!' the loudest. Than back to our usual Q&A….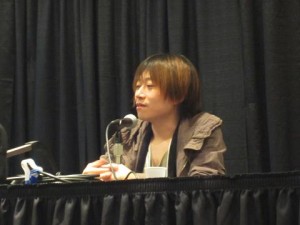 Q: Since each mangaka usually has a story behind their self portrait, what is the story behind yours?
Ohno: I approve of this question. *audience laughs*
Ishiguro: When I was in highschool, there was a tv show on NHK. It used to an English tv series for 'Sherlock Holmes'. I really liked one of the characters so I drew it over and over again. Slowly, it became the blue character which was myself.

Q: When you were little, which was your favorite manga?
Ishiguro: I grew up reading Fujio Fujiko-sensei manga [(Doraemon)] and it has a great influence on me.

Q: What aspect of Shinbo Akiyuki's directing style appealed to him for Soremachi?
Ishiguro: I really enjoyed the director Shinbo's work. When we started the animation work for Soremachi, I told him to just do what he wants. I'm personally very happy with it.
Ohno: We were talking with Shinbo [about Hurricane Polymer?], we hit it off really well, we went out drinking and than we decided to do the anime. But Ishiguro-sensei can't drink. *audience laughs*
Any questions that fans wanted to ask Ishiguro-sensei are able to e-mail their questions to info@jmanga.com.
The crowd exploded during the closing giveaway…especially for the Nexus7. It was disappointing that the ANN/JManga giveaway couldn't really be held since none of the ANN readers who signed up appeared. At least none of the names which were read out. Much of the winners were chosen by screaming, jumping and all in Newman's line of view. Of course, I just took pics.) BTW, the dance off was hilarious since Hotori, one of the Jmanga staff cosplayers stood in the midst holding the Hotori figurine above her head…while the fans danced around her (without music.)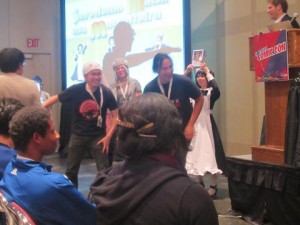 With that hilarious end, the panel closed. Those who received the prize could have Ishiguro-sensei sign them after the panel.