There was a slight delay to the start of the panel, but we were all very patient. NYCC welcomes back Amano-sensei…and fans rejoice. The audience laughed as an enthusiastic fan calls from the back, "Welcome back, bro!"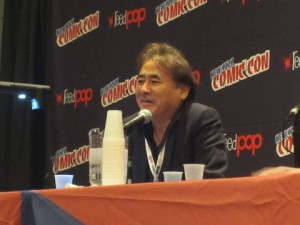 Amano: What should I say? New York is wonderful. [I love New York.] *fans cheers* I haven't been back in NY for a long time. I want to see everyone and be around everyone. That's all I have to say. *laughs* One of the reasons I'm here is that I have a new project, Deva Zan which is being released by Dark Horse next year. When you have the chance, please check it out. *audience applauds* I don't have that much to talk about. *audience laughs* I draw pictures so talking isn't really one of my strong points. I prefer you look at my artworks. *audience laughs*

Translator: Up until this point, majority of his work has been focused in art. You might have heard of Vampire Hunter D, also very independent, obscure and relatively unknown game called Final Fantasy.

Amano: One of the things is that I constantly get credit ofr Final Fantasy and Vampire Hunter D, but those are works by lots of people, groups of people. Now Deva Zan, I got into the world of writing. Not only the art, the story is written myself. I feel more responsible for the outcome. Like if Final Fantasy failed, its fine, *audience laughs* but this is all mine. This has been something I'm been mulling in the back of my head for some time now. I wanted to have put it out and publish it somewhere. I have alot of these projects, but Deva Zan is the one that came first into fruition.

I was here in 2008, [I'm sure many people were here for that as well] and I feel there were alot more people here than there was back than. I was here with Kikuchi [Hideyuki-sensei], the creator of Vampire Hunter D. I believe Vampire Hunter D turns 30 next year, he has working on it all along and he is faced with some serious deadlines. It's unfortunate that he couldn't be here.

New York is a special place for me. It is where all my ideas come to me.

Translator: I don't know if you knew this, but he used to live in Manhattan, flying between Japan and here a decade or so ago. Some of his projects came out when he was in NY. Hero, I don't know if you're familiar with that came out in NY. Deva Zan, a part of it takes place in NY. He thought of it when he was here. NY Salad, an obscure title about fairy vegetables or vegetables which are fairies and at night they animate. Also, the much talked about, Tako Man which is an octopus who is a super hero. He is ready to go, but we're just waiting for the cards to line up. So NY is just this wellspring of inspiration for him.

Amano: Sou desu. *audience laughs*

Q: You said that [painter], Gustav Klimt was a big inspiration for you?
A: It's too simple to say that he is an inspiration or that I'm influenced by him. But I really liked him in my twenties.

Q: How did your cameo in 'New Rose Hotel' [1998] the movie came about?
A: I didn't know what I was getting into. At that time, my picture was in the New Yorker or something and they said, "Let's get this guy." I got a call out of the blue and that was that. *audience laughs*

Q: Do you have a favorite project or piece that you've done?
A: There isn't a piece that I particularly dislike.
The fan also asked for an autograph, but the staff refused her. The crowd was denying her as well since it would be unfair for her to receive a signing out of turn from the 100 who waited that morning. Though I didn't see through the heads, I believe that Amano-sensei waved at a D cosplayer who had the mouthpiece in his palm. The same fan may have been the one to speak next. He mentions having one of his older artbooks of Final Fantasy which ultimately gave him the inspiration of becoming an artist.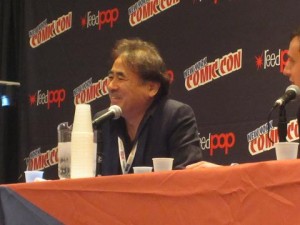 Amano: Give your best. This is a work of a lifetime. It is something that can take your life with it, so good luck! *audience laughs*

Q: I'm also inspired by you to be an artist. Can you share a bit about your process as an artist?
A: It's a pretty difficult question…to describe the process. One of the things is having an image in your mind, inspired you to start drawing and carry it down to the one. Keep drawing until you follow through to the end is part of the process. Describing the process itself is kind of a difficult abstract question. There are very particular questions about art here.

Q: Can you talk a little of the depictions of androgyny in your work? Characters like D or Final Fantasy characters?
A: It is not really set up to be an androgynous character. I draw in my mind what I think is beautiful or attractive characters and that is what comes out. There isn't a standard that I must draw androgynous characters. Just like with mountains, or the sky or anything else that is beautiful. There is not gender to it. Perhaps the pictures of people are the same way. It's just the subject of what you view as beauty. Just as a mountain is genderless.
Translator: I consider Vampire Hunter D as the original bishounen so I agree with that one.
A: When you're drawing, when you think something is beautiful, just draw what you think is beautiful as you imagine it. I just encourage you to draw without holding yourself to any limitations.

Q: I remember dragging my parents to see your exhibition at New York's Puck building some 15 years ago. They were completely blown away. That was amazing. How did you get involved in the Final Fantasy series?
A: Thank you! That Puck Building exhibition in 1997, ['Think Like Amano'] was my first exhibition in America so it was really big for me. I wanted to do something that was representative of New York. Games as they were 25 years ago is different from what they are now. I wasn't dealing with the game aspect at that time. I just saw a bunch of impassioned, talented video game staff. Young people who I thought would be really cool to work with and that is how it started. From a publishing perspective, there is some trepidation about an established artist being taken seriously when working with a video game. But now looking back on it, its Final Fantasy. There is a nice confluence about what he wanted to do and what the game was about. Had it been about baseball or something else, it must've been different.

Q: I know that you created pieces for literary works like Tales of Genji. I would love to hear about the interactions with creating the art and the actual text. Where is your favorite place in NY?
A: There are already pictures of Tales of Genji. I didn't have a concept of how things looked back than so the clothes that they're wearing and the kimono that they're wearing in Tales of Genji isn't real. I made them all up. [It's all BS, I guess?] *audience laughs* Don't think that that's what they were wearing so many years ago. It was very solemn back than, you had to dress a certain way and had to your hair a certain way in Japan. Nowadays, people can dress the way you want, wear your hair the way you want. I would like to think that even back that, there is even more freedom for what you could wear. History is just an interpretation of people so why shouldn't I interpret it the way I want? If there are so many different ways to wearing the hair or clothes, why shouldn't I interpret it my way. Even if it is real, it worked out well in the end for Tales of Genji. I want to head back to Chelsea. There are alot of galleries there so I want to back there.

Q: Growing up, Final Fantasy was such a huge inspiration to me. I had notebooks where I just drew the characters in class. Growing up, what did you like to draw? Who were your biggest influences? What did you like?
A: I was influenced by the animation that I could see at that time. There was alot of movies in my teens, 'Snow White' and 'Bambi'. I really like American comics. I read 'Superman' and 'Batman'. Since we're at a comic convention, it feels strange that I'm up here talking. I feel like I should be in the crowd. *audience laughs*

Q: The concept art for Final Fantasy has been one of my iconic art in video games. What mediums to draw from while drawing Final Fantasy VI and Final Fantasy XII? IV was more nightly, VI was post-apocalyptic and XII was like an ancient world with modern aspects.
A: There is no direction for me. When asked about the themes for IV, V, VI and XII, I just get to add on to what I get the first time. I try to do something different each time so I draw a bunch and what I have is what it becomes.

Q: Who created the concept of the moggle and the chocobo? You or the company?
A: I don't actually remember. *audience laughs*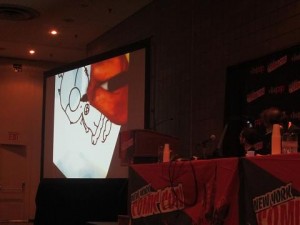 What I love most of all is that they set up the projector on the tables which indicates that the artist will draw. The first piece he drew was a moggle with a NY badge. He also drew D and followed it up with Ken from Gatchaman. The last two pieces was Zidane from Final Fantasy IX and the famous Terra from Final Fantasy VI. The art pieces are not up for raffle but entered into the charity auction held at NYCC.