---
« Next: Con Goer – MAGFest XII 2014 – Out and About | Previous: Con Goer – Geek Creation Show 2013 – Features – Costume Contest »
DerpyCon Welcomes Voice Actress Brittany "Bree" Lauda to DerpyCon 2014
Aired: April 10th, 2014
Morristown, NJ (April 10, 2014) – DerpyCon is please to welcome voice over artist Brittany "Bree" Lauda to DerpyCon 2014.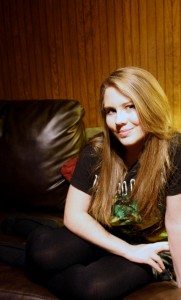 Brittany has made appearances in many internet videos, independent games, and animation. Her debut anime role was Mirim from Queens Blade Rebellion. Brittany is best known on the "Epic __ Time" series as Pinkie Pie in the My Little Pony parody series.
DerpyCon 2014 will be held December 5-7, 2014 at the Hyatt Morristown at Headquarters Plaza in Morristown, NJ.
ABOUT DERPYCON: Serving as a multi-genre science fiction convention in northern New Jersey, DerpyCon celebrates the culture of animation, fantasy, and gaming. DerpyCon is presented by Vidgle and Jenthony Enterprises, Inc.
For more information and news about DerpyCon 2014, go to https://www.derpycon.com.
Watch this Episode Now
Leave a Reply
« Next: Con Goer – MAGFest XII 2014 – Out and About | Previous: Con Goer – Geek Creation Show 2013 – Features – Costume Contest »
---
Copyright 2023 Jenthony Enterprises, Inc.