During the prize portion of the panel, prizes were given out again by shouts, jumping and calling attention to the self. The loudest fan to shout 'Jmanga yomitai!' or 'I want to read Jmanga!' was given 5000 points (which is 10 manga on the site.)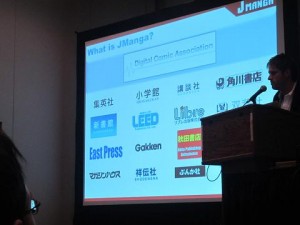 Jmanga itself was conceived by the Japanese Digital Comics Association, a collaboration by 40 manga publishers like Kadokawa, Shodensha including BL publishers like Libre. The goal is to get out as much as manga as possible to as many people as possible around the world. Jmanga has over 500 volumes available for around $4.99 a volume, worldwide for certain series.
Newman asked for titles the audience has read from the site. When a fan called Sunken Rock, he pointed out Ohno Masahiro-san as the editor. Of course, at Soremachi, Ishiguro Masakazu-sensei greeted the crowd.
The newest service is Jmanga7 which has 40 series available for free or $5.99 a month. The '7′ alludes to 7 days in a week which means that it will be updated everyday. The premium price of $5.99 allows readers to get the latest chapters. However, the free service will receive access after some time. Newman gave a fan who said 'Nana' or '7′ the loudest one year free premium membership.
The new Manga app for Android grants users access to both Jmanga and Jmanga7 titles. Though there won't be a Blackberry app, an iOS app will be available soon. They are aware of the issues involved with the Android app and are fixing the errors.
New manga licenses! Jmanga will be releasing titles from Kodansha including Codebreaker with the anime streaming on Crunchyroll, Pastel, Princess Resurrection, Pumpkin Scissors, School Rumble and The Yagyu Ninja Scrolls. Jmanga announced to the cheers for the fans that they'll be finishing these titles, especially since some were released in print and never seen through to completion.
Other Kodansha titles that will be released soon is My Heavenly Hockey Club by Morinaga Ai-sensei, Gakuen Prince by Yuzuki Jun-sensei, Fairy Navigator Runa by Kikuta Michiyo-sensei and Ikeda Miyoko-sensei and Yozakura Quartet by Yasuda Suzuhito-sensei. From Shodensha, they will be releasing on both Jmanga and Jmanga7, Cousin by Ikuemi Ryo-sensei and a josei title, If you Wanna Destroy the World by Fujiwara Kaoru. From Shueisha, we have Pride by Ichijo Yukari-sensei and Crazy For You by Shiina Karuho-sensei. Both series has a special sale for both vol 1 and 2 for $5.98.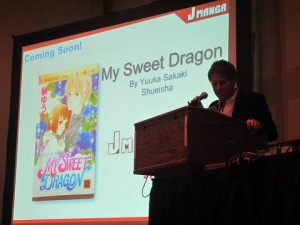 Newest announcement (Newman got the okay from Shueisha just friday night, NY time,) My Sweet Dragon by Sakaki Yuuka-sensei and Yasuko and Kenji by Aruko-sensei will be released by Jmanga. Of course, being that there is so many titles that are available (and not enough time,) some covers were presented to tease the fans. Of course, my eyes were drawn instantly to the BL titles. XD Special mention to Elemental Gelade, Neko Ramen and of course Present for Me by Ishiguro-sensei.
"Ishiguro-sensei yomitai!" The complete series dvd for Soremachi was given out to a fan who said 'Mitai!' or 'I want to see!' the loudest. The signing for Ishiguro-sensei will take place half an hour after the panel so fans were encouraged to attend.
Submissions already closed, but the Manga Translation Battle is a competition for aspiring manga translators to try their hand at unreleased works such as Chocolate Cosmos by Shueisha. Sponsored by the Digital Comic Association and Japan's Agency for Cultural Affairs, the winner will receive a trip to Japan with the runner ups receiving Ipads. Final selections will be voted on by the fans. The chapters will be available for free on the facebook page. Details will be facebook and twitter.
More giveaways! Newman gave out 2 drama cds for Soremachi. Than we turned to the Q&A portion of the panel.
Q: When Jmanga first began, Junjou Romantica was shown but never released. When will it be released?
A: Some titles that are on Jmanga were there for information only. The title in question is from Kadokawa and they put it up there to get people aware of it and become interested in it. When I get e-mails about people want to read titles like that, I pass it on to Kadokawa. I will do my best to get it, but I can't make any promises.


Q: Do they retranslate titles that had a print release before?
A: It depends on the licensing situation. Code Breaker that will be released is the same as from Delrey. But obviously, only two volumes was published so volume 3 on is purely from Jmanga.


Q: Jmanga mostly announced josei and shoujo titles. Is that reflective of their goal?
A: The point is to get out as many manga titles as possible. Both shoujo and josei are underserved outside of Japan. We aren't setting out just to release those, we have any genre you can think of on Jmanga.com and we'll continue to get out as much manga as possible.


Q: What were the Libre titles that you were showing us?
A: Please come see us afterwards.


Q: Are there going to be any seinen titles in their label?
A: Someone mentioned Sunken Rock earlier. There are many seinen titles by Shonen Gahosha on the site.


Q: Any chance you can get Chihayafuru?
A: Yes, that is a good title. You should all e-mail me asking for that title.


Q: What made you start Jmanga?
A: The intial concept for Jmanga started several years ago from Digital Comic Association of Japan. It's a group of publishers that are passionate about getting manga out to overseas audience, outside of Japan. There is an absurd amount of manga released in Japan and a tiny sliver of it gets published overseas. A big reason for that is the cost of translation, printing and distribution. With Jmanga, we have to do the translation cost, but we don't have to do the distribution cost. So we can put out alot more manga. So the reason why Jmanga exist is because the publishers love you. *audience applauds*


Q: Do you have a contract with Libra?
A: Libre? Jmanga.com is where the publishers directly release their manga. And you can read it legally.


Q: Will you be doing print releases?
A: We're interested, but we're just looking for other platforms. We would love to have physical copies. I work with a digital site, but I love having books on my shelves. We're interested in the possibility but we don't have anything concrete that we're pursuing right now.


Q: Any plans to save anymore Tokyopop titles?
A: We already have titles that used to be released by Tokyopop. One that comes to mind is Your and My Secret by Morinaga Ai-sensei. We also have Neko Ramen which was also originally by Tokyopop. Alot of publishers are really hoping that fans of these titles can continue reading them and Jmanga.com is where you do it. *audience applauds* If there are specific titles that you are interested in, send me an e-mail and I'll do my best to get it.


Q: Do you have any titles by Kadokawa Shoten?
A: We don't have titles by Kadokawa Shoten, though we have alot of information from Kadokawa.


Q: Differences between Jmanga and other manga websites?
A: Do you love manga and the people who create the manga? When you read manga from sites like onemanga, it does nothing for the people publishing it, the people who create it, the artists. When you read manga from Jmanga.com, you're directly supporting the publishers and creators who make the content. By supporting them, you allow the creators to create more content. The more you support, the more there is to read. *audience applauds*
Again, the ANN reader giveaway for a Nexus7 was attempted to no avail. Instead, Newman asked all the ANN readers to step to the front…and have a dance off. Someone found the little gift of a granola bar with 'JManga Loves You' written on it. Newman: I hope you're hungry, because you got a granola bar! lol She was given a Nexus7. Hotori of course vacated the panel before the end. Newman: If you find her at the booth, you can get an autograph by Ishiguro-sensei!
The panel ended at 5pm with the Ishiguro-sensei signing at 5:30pm.