The panel opened with the Japanese comics trailer for Shingeki no Kyoujin aka. Attack on Titan. "You might not have heard of it…." *audience laughs* Kodansha has sold over 500,000 in print which is astounding in the English manga market. "Spread the love for giants eating humans!" For the rest of the year, Kodansha will be releasing a volume each month until we're caught up in Japan. Vol. 8 will be released 10/29, vol. 9 on 11/26, vol. 10 on 12/31 and vol. 11 on 1/28. Volume 8 is also available at the Kodansha booth. It is also where the anime ends so there will be new material afterwards.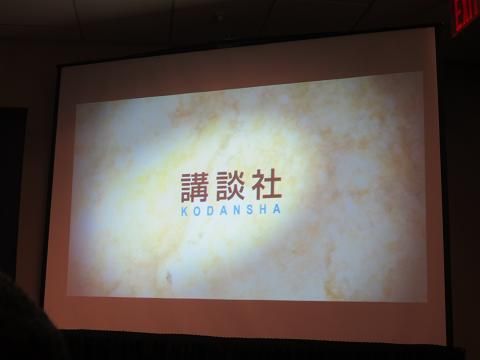 This was only the beginning of the Kodansha aka. SnK panel. Kodansha will be releasing the two Attack on Titan guidebooks, Inside and Outside as a single volume with nearly 400 pages. There will be over 16 color pages in the middle as a gallery, concept art, setting information, profiles and 'Titan Papercraft'. Released in June 2014.
The hilarious Titan Junior High which is set in the world of Attack on Titan but "titans don't eat humans so much that they go to junior high school with them." *collective awwwww and laughter* Eren unfortunately still doesn't like titans and enjoys playing pranks on them. Vol. 1 Print and digital release will be available on March 2014. It will be in omnibus format with 400+ pages.
Manga from Autumn 2012's anime season. Vol. 1 of the shoujo sucess, My Little Monster by Robico-sensei will be released in March 2014, with vol. 2 in May 2014 and vol. 3 in July 2014. Say "I Love You" by Hazuki Kanae-sensei will be released on April 2014 for vol. 1, June 2014 for vol. 2, and August 2014 for vol. 3. In comparison, the latter of the two is more serious but both are must reads for shoujo fans.
Mishima Hiro-sensei of Fairy Tail fame released Monster Soul in 2006. Only two volumes, it will be released in May and August of 2014.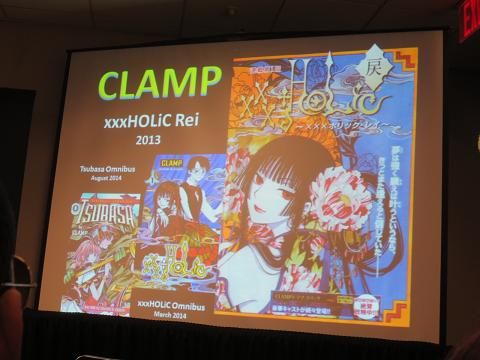 CLAMP fans rejoice! Xxxholic Rei will be released in 2014 with the return of Tsubasa and xxholic in omnibus format, August and March respectively.
New series announcement! The trailer of Suzuki Nakaba-sensei's The Seven Deadly Sins was shown. The first volume will be out in March 2014. Middaugh comments that it's in a similar vein as Dragonball and notes that it's very popular in Japan. "Get in on the beginning of the wave. It's something that I'm sure we'll be seeing alot of cosplay for at New York Comic Con next year." Kodansha blurb below:
The king is dead at the hands of the traitorous Holy Kights! It's up to the Princess Elizabeth to unite seven legendary warriors-the Deadly Sins-to save the kingdom and secure her birthright, starting with Meliodas, the Sin of Wrath!
Due to computer malfunction, they started the Q&A as the mods switched devices. As always at Kodansha panels, there were prizes given for questions including Attack on Titan keychains, fans and various manga.
Q: Do you know when the second season of Attack on Titan will be released?
Applegate: No!

Q: Given the success of Fairy Tail, you're releasing Monster Soul. Will you re-release Ravemaster?
Applegate: Yes, we would love to do Ravemaster, but the problem is that it is over 30 volumes long and it is difficult to re-introduce that series. We don't have plans for that, but never say never.

Q: Will you release Monster Hunter Orage?
Applegate: We already released that!

Q: How many volumes of Seven Deadly Sins is out in Japan right now?
Applegate: There are currently 2 volumes out *corrected by GM* 5…*in auction voice* 5 volumes! Do I hear 6? *audience laughs*

Q: Where is your booth?
Applegate: 2109. Our booth no. 2109.
We returned to the presentation as the computer returned. Another brand new release, Akamatsu Ken-sensei's new series UQ Holder which just began earlier this year. It is set in the world of Negima. Blurb by Kodansha:
Years after the saga of Negi and his students, the little boy Touta dreams of leaving his quiet village and heading to the City. But first he must defeat his teacher…the immortal Evangeline!
First volume will be released in March 2014 both digitally and in print.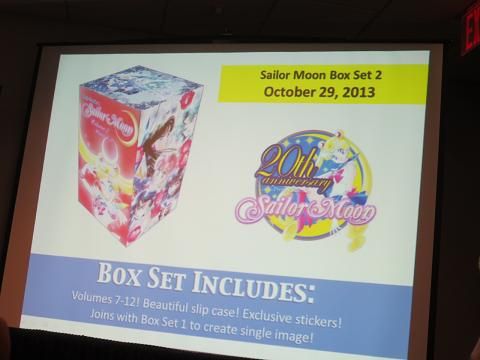 Sailor Moon boxset 2 will be released on Oct. 29 with it already available at the Kodansha booth. Both boxsets will join together to create one beautiful image. Stickers are also included like the first boxset release. Sailor Moon Short stories vol. 2 will be released soon on Nov. 26. The short stories were in the original editions but since the new releases of the main story are thicker, the short stories were collected in their own volumes.
Sherlock Bones by Ando Yuma-sensei and Sato Yuki-sensei is about Holmes being reincarnated into a dog in modern day Tokyo. He calls the boy who walks around with him 'Watson' (though it is uncertain whether he is reincarnation of the doctor,) and they solve mysteries together. Ando Yuma-sensei is none other than the pseudonym for several mystery and drama writers including Psychometrer, the popular Bloody Monday and well known, Get Backers. Even though there is guise of cuteness of Sherlock Bones, the mysteries is nothing to shake a paw at. (I'm thinking in the same vein as Detective Conan at times: humorous, but realistic.)
The Kodansha e-book platform was released this year for the kindle, nook and ibook stores with other devices in development. The ipad app is no longer updating. You'll keep any books you purchased on the app, though there won't be any new books on the app. Sailor Moon has not been released digitally but many existing series including Attack on Titan, Fairy Tail which is on an accelerated release schedule. 2 volumes will be released digitally while 1 volume will be released in print. (The digital is ahead of the print release by 8 volumes.) The digital release has almost caught up with Japan at 39 volumes. Print-wise, Kodansha plans to be caught up with Japan by the end of next year.
Sankarea is released digitally as well as No.6. The response for No.6 has beaten all expectations. Future digital releases including Shugo Chara! and Shugo Chara-chan!, Tokyo Mew Mew and Tokyo Mew Mew a la Mode, My Little Monster, Say "I Love You", Sherlock Bones and…Negima. Applegate adds that previously, it was unheard of to get the e-book rights of any Akamatsu-sensei works so this is a big deal.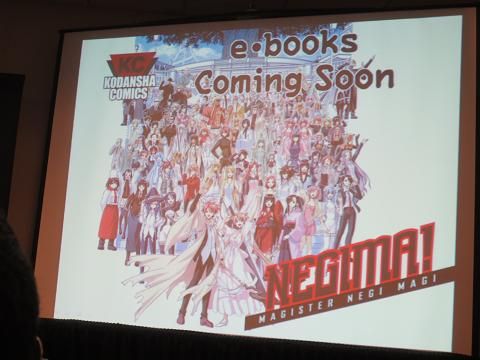 Return of the SnK panel, the spinoff manga Attack on Titan: No Regrets will be released in August 2014 in both print and digital format. From the magazine Aria (which releases No.6,) the manga delves into the past of Captain Levi and Erwin. The first volume of Attack on Titan: Before the Fall will be released in March 2014 in print and digital release. (Earlier this morning, Vertical announced that they'll be releasing the light novels Before the Fall which is what the manga was based on.) The story is set seven years before the main series when the Survey Corp is just figuring out how to kill the titans.
Return to Q&A….
Q: Live action Attack on Titan?
Applegate: It would be awesome but we won't be involved in it. We're only the US publisher of the manga. We're not involved in the anime either-barring any cross promotion with Funimation. I believe there was a live action in the works in Japan at one point. You would know everything we would know.

Q: Concerning No.6, are you planning to include the limited edition booklets that were included with volume 3 and 5?
Applegate: The bonus stories that were in the limited edition of volume 3, 5 and 7 will be included in the back.

Q: Will you release the No.6 light novels as well?
Applegate: No, we're Kodansha comics, we only do comics.

Q: Do you plan on releasing the prototype chapter of Attack on Titan?
Applegate: No, we don't.

Q: Takeuchi-sensei released new art for the manga?
Applegate: Our editions of the manga includes the new art that was in Japan. We don't have any plans yet for the new art for the new anime series.

Q: What is the plot of Before the Fall?
Applegate: You'll have to read it to find out. The story goes into the wall in a great amount of detail. The focus of Before the Fall is upon the Survey Corp and the maneuvering gear.

Q: Does your e-book platform work for the android?
Applegate: Our books are available on the kindle and nook. You can use the kindle and nook apps on android devices to read them. Though it's not obvious, they are available on android as well. It is better since you can read them on other devices as well if you need to.

Q: Since you're releasing Battle Angel Alita in omnibus format, will you consider release the original series?
Applegate: Currently, the original series is not released by Kodansha in Japan and that is a prerequisite for us to do it. We'll see what happens first.

Q: Would we get other Negima characters in UQ Holder?
Yoo: Well, that would be a big gigantic spoiler, wouldn't it? If you read the first chapter, it was even a big spoiler for us to announce that Evangeline is involved. Be that as it may, we don't know yet since not enough of it has been written yet. It does seem that there is an inclination in tying characters to the past Negima world.

Q: How many volumes are in Attack on Titan: No Regrets?
Applegate: We don't really know at this time.

Q: When will the Sailor Moon artbook be released?
Middaugh: A likely sales date will be around autumn 2014.
Interestingly, it was hinted last year that the release of the artbook will be in 2013…but with the delay of the anime, I'm not surprised that the artbook is delayed as well.
Q: Will there be an artbook for Attack on Titan and will there be color pages in it?
Applegate: Our guidebook is pretty much an artbook. There are alot of concept art in it, alot of color pages including the 16 page color insert in the middle. If you're looking for an Attack on Titan artbook, that is probably your best bet.

Q: Do you have access to Kodansha's older series like Saint Seiya?
Applegate: While we have access to probably some of them, it is very tough to do a series when it doesn't have the brand name recognition in the US that Sailor Moon does. We're probably going to focus on newer series. We don't have much of an incentive to bring them out right now…not with our schedule being as full as it is. It certainly is not an impossibility in the future.

Q: Do you have information about the new Sailor Moon anime?
Middaugh: The plan is for the anime to start distribution around January 2014. It will be distributed by the website nico nico douga. Right now it will be subtitled in 10 lanugages.

Q: Will Seven Deadly Sins be released digitally?
Applegate: Yes.

Q: Are you planning on releasing a boxset of Sailor V?
Middaugh: Maybe. We'll keep that in mind.

Q: Are you doing anything special for the 20th anniversary of Sailor Moon?
Applegate: We're re-releasing the manga in English. *audience laughs*
Middaugh: We're also releasing two artbooks but it is uncertain if it will be released at the same time or not. It will be released in multiple territories simulaneously. Each artbook has an original a bonus item for each version in each country.

Q: Do you have any interest in genres like yaoi or shonen ai?
Applegate: When we look at acquisitions, we don't base our decisions on genres. We're more focused on whether or not the title has sales potential in the US and whether it's good, amongst other factors. We're certainly open to many genres. In fact, No.6 has alot of draw with BL fans.
Middaugh: Also, those two genres Kodansha isn't super strong in so there are not alot of books we can look at.
Q: You work with titles like Attack on Titan and than genres like Sailor Moon. Do you have a preference of working with certain genres?
Applegate: All of us have our favorite titles.
Yoo: We're fans of good storytelling, good art, good characters. Genre is an unnecessary label at times. We just look, read and see how we feel about it. Rather it involves magic or whether it involves two adults discussing comic books, if the story is good, we'll like it.
Applegate:I won't go too much into what our favorites are, but you should totally buy Vinland Saga.
Yoo: Or Animal Land. Nobody seems to want Animal Land but it is really the best thing we published.

Q: How many volumes is My Little Monster?
Yoo: 12 volumes long.

Q: Is there any chance to get Takeuchi Naoko-sensei to attend a convention?
Applegate: It depends on her schedule and whether she is interested. Our doors are open!

Q: What is the concept art going to be like in the Attack on Titan guidebook?
Applegate: It doesn't have much to do with the anime. It is mroe about the manga, but of course they'll go more into detail about the technology, the world, the setting and that stuff. And go into detail about the characters. I think it is the first time the birthdates of the characters were released. That sort of stuff.

Q: Will we get the special edition bonuses that they had in Japan for Attack on Titan?
Applegate: We're still considering the options on that. It's tough to make those work in the US for obvious reasons so we're still looking into that but it's not an impossibility.

Q: How long is Titan in Junior High?
Applegate: We don't know at this time.

Q: What do you think is the appeal of Attack on Titan?
Applegate: It is alot of things. It busts down alot of walls of genres, alot of aspects of shonen and horror manga. It plays around with alot of tropes of shonen manga, it also has alot of awesome female characters and it Isayama [Hajime-sensei] treats his female characters really well. The uniforms are the same for the male and female characters which sounds basic for a military organization but actually is not. There are not just strong female characters, there are a variety of female characters. There are female characters who are strong in the face of adversity, but also cowards. Sensitive types, people who are emotional, people who are less emotional. Mikasa is the greatest character ever-and now I'm starting to ramble. *audience laughs* I think it is a combination of things that makes it really unique. The art style is really unique too. I also think it's because he knows where he is going alot more than the average long running shonen manga which helps out alot.
Yoo: *concerning the plot* It's also a challenge to the status quo to not let things keep going the same way that they are. Taking a stand, trying to aspire for something greater than the safety of something you've always known: the comfort behind actual large walls.

Q: Is there a difference between the digital and print releases?
Applegate: We actually priced them the same. The reason for that is it's because it's left up to the retailer to discount which they always do. Our prices are $7.99 which is what they're priced at at our ibook store…which is what they're mostly priced at for our kindle as well. We have limited control over our pricing but we set our SRP the same.
Yoo: Digital is always better. *audience laughs*
Applegate: We actually have one digital devotee and one print devotee. It's good to have a balance.

Q: Do you offer bundle pricing on the ibook store?
Applegate: No.
Middaugh: They don't really offer that for books. Though that would be awesome.

Q: What is our most anticipated addition to the list?
Middaugh: Of course, I'm most looking forward to the Attack on Titan books, but the book that pushes me personally and the book I absolutely will be buying if I didn't work here-that would be all of them-is Vinland Saga. I was a big fan of Planetes and I think the work they did on the hardcover edition is fantastic and it's the best thing we're doing right now.
Applegate: I would've said Vinland Saga too, but since I can't, I'll say Before the Fall.
Yoo: I don't really read. *audience laughs*
Applegate: You don't have time! We keep you locked in that office all the time! *audience awwws* UQ Holder. I'm a big Akamatsu-sensei fan and I'm glad to have him back.
Q: What is the general process for what will sell in America?
Middaugh: Extensive guesswork. At the end of the day, we're just working off of information that we have. Some things are easy. If Akamatsu Ken announces a new series, we're going to do a new Akamatsu Ken series because he is a known property. But an example of how things could go, we launched Attack on Titan in Summer 2012. We positioned it as a really big launch because it was an awesome series and we totally believed in it. But it didn't work for about nine months. In fact, we were starting to get alot of books back. I was finding a level that was much lower than anticipated. Than the anime hit, and that completely turned around. That leads me to the story that I've waiting for an opening for. You saw the words a half million in print for Attack on Titan. I don't know how to put that into perspective for you other than to say that I've been doing manga for 13 years and that number is massive. I don't think that is even close to where we'll be in a year or two. We printed 45,000 copies of Attack on Titan in August and in a conversation with my boss, he said, 'Dallas, you're being too agressive. I think you'll be sitting on them for two years.' I said, 'Jeff, it's okay, I'll give it a year at the most.' We're going to be out in 4 weeks. That was two months ago and we're going out with an even larger print run. Um…that didn't answer your question, but I was waiting to tell this story.
Yoo: I should mention that we have subscriptions to all the Kodansha comic magazines. Morning, Shonen, Afternoon, Aria. Ben and I will get a giant box that comes into the office very frequently and we'll just go through them to see if anything jumps out at us.
Applegate: That gives us an idea about what we want to take a chance on.

Q: Will there be an omnibus edition for Attack on Titan?
Middaugh: Probably not in the near future. Omnibus is only something you do with series with alot of volumes that are difficult to get all on the shelf for retail. Attack on Titan is still very new.
Applegate reminds fans that reading manga by chapters online is illegal and legal digital copies are available on the kindle and nook.
Q: How many volumes of Attack on Titan were sold in Japan?
Applegate: 25 million….
Middaugh: We don't want to share that number since it makes our number look puny. But it really isn't in the American market.
Applegate: That gives you an idea of the size of the market in Japan.

Q: Are you going to release the omake parts of Shugo Chara?
Applegate: The gag manga will also be getting a digital release.

Q: From Sherlock Bones, how did Holmes meet Watson?
Yoo: Sherlock is born as a dog. He is adopted by the kid, Takeru whose name in kanji can be read 'Wa-to-son' so Sherlock mistakes him as his Watson. There is a special connection between the two of them because it seems that as the dog, Sherlock with a pipe in his mouth can only communicate with Takeru and nobody else despite his attempts to do so. That's how they meet. It's clever and fun. The art looks cute but the stories can get-the author isn't pulling any punches. People die. It's pretty dark in some places. It's a nice balance between horrible and pretty funny things.
Upon the following question concerning pirated manga online and it's affect on the industry, the panelists looked pain. Middaugh explained that in the past, scanlations were the gateway for word to get out about a series. Through the popularity of a series, publishers had an idea of what to publish as it was in demand. That was 10 years ago. Now, it damages the structure of how manga companies work.
Q: Isayama-sensei said that he wants to end Attack on Titan in vol. 20?
Applegate: He said that publically, and I have nothing to add to that.
Upon the question if it was easy to find manga reading sites, it should be easy to take them down. Applegate points out that the sites are hosted in countries like China, Turkey and Canada which have lax online copyright laws. Middaugh adds that subjects like this are not allowed to be brought up in staff meetings anymore since the subject gets too intense. Yoo adds that though the scanlators and translators are doing it for the fans and for free, the site who hosts the manga are in it to make money. The only way to stop the sites is not to visit them. The reason they exist is because they generate so much traffic and so many page views that the ads that they post make those people alot money, none of which goes to the author or to the content creator. Yoo notes that his views are not reflective of Kodansha, but he is against [scanlation sites]. Applegate notes that the site they're referring to are the sites who are hosting the manga, the aggregator sites which make money. They'll take the work of scanlators. Yoo points out some scans which are just scans of printed books.
Middaugh: Now you know why our staff meetings can be really long. *audience laughs*

Q: As anyone from Hollywood ever approached you to discuss making a movie of Attack on Titan?
Middaugh: We're Kodansha US so they don't talk to us but Kodansha Japan. As to if anyone from Hollywood ever approached us inquiring about the rights to Attack on Titan, I feel comfortable in saying 'yes'. But that doesn't mean anything!

Q: Is there any chance of re-releasing Yozakura Quartet?
Applegate: Not at this time.