Moderator Robert Napton provided a brief background of Sunrise. It was founded in 1972. Currently, it's part of the Namco Bandai group and is comprised by 12 independent studios which work on various projects, including Cowboy Bebop, Mobile Suit Gundam, Tiger and Bunny amongst others. The other panelists are the Managing Director Sasaki Shin and Hagino Akane, the Manager of International Sales.

Sasaki: *in English* Nice to meet you! *Japanese* My name is Sasaki and I'm with Sunrise. I'm really glad to be here today. So the panel will be about the new and latest information coming out of Sunrise. I am one of the producers, personally worked on Gundam Unicorn, Gundam 00 and Gundam AGE. Currently, I'm working on the production as general manager of Valvrave, LoveLive! and Code Geass: Akito. I hope you enjoy the panel!

Hagino: Hello, everyone! My name is Akane Hagino and I'm in charge of international sales and promotion. Recently, I mainly work for the American and Asian market. I also work for the English production of Gundam Unicorn. New York is one of my favorite cities and I'm really glad to be here and meet you. I'm very happy to be part of this panel. I hope you have fun. Thank you!
The attention is turned to current releases, beginning with the Tiger and Bunny tv series. The dub is currently available on Neon Alley and the sub version is Viz Anime.com. The dvd and BD part 1 and 2 are currently available. For the latest info about the series, including information from Japanese, you can check out the Tiger and Bunny Facebook page. Hagino-san encouraged fans to please 'like' it. A short trailer was shown.
More Tiger and Bunny news! The first movie, The Beginning BD and dvd was just released in Japan and the US on October 1st. "Did anyone go out and buy it yet?" *raises hands* The BD and dvd has over 2 1/2 hours of extra content, including the Tiger and Bunny event which took place in Japan. Streaming is available on Neon Alley. The long movie trailer was shown.
The premium edition BD release of Daily Lives of Highschool Boys was released on August 6th from NIS America which includes a hardcover artbook. The trailer was met with tons of laughter from the audience. Hagino-san quipped that though she doesn't know if that is how highschool boys are these days, it is a kind of story that re-energizes you. The next trailer featured Horizon in the Middle of Nowhere. It is streaming online at Anime Network, Hulu and Crunchyroll. The season 2 BD and dvd is on sale from Sentai since July 2nd. Funimation license, Binbogami ga! aka. Goodluck Girl will be released on Nov. 19. Streaming is available on the Funimation website and Hulu.
Due to the popularity of LoveLive! during the winter anime season of this year, the second season will premiere in Japan in the spring anime season of 2014. Streaming is available on Crunchyroll and info for the BD release will be revealed by NIS America.
New release information! The 1st season of Valvrave was shown during the spring anime season of this year. The 2nd season just started in October's autumn season. (Yesterday, as of the day of the panel.) Streaming is available on Hulu, Crunchyroll and Daisuki.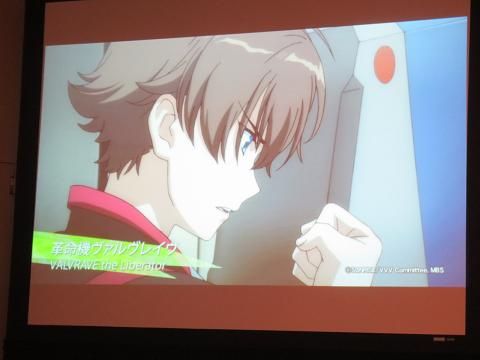 Both openings of season 1 and 2 are sung and penned by T.M.Revolution and Mizuki Nana. Limited edition figurines and merchandise is available in the show room. Check out Aniplex of America Aniplex of America for the BD release date.
The 3rd season of Phi Brain started streaming on October 9th on Crunchyroll. Sentai Films currently released Season 1 (Collection 1 and 2) as well as Season 2 (Collection 1.) Season 2 Collection 2 will be released on November 8.
Much applause for Code Geass: Akito the Exiled. Four 'episodes' in total with episode 2 shown in theaters in Japan in September 14th. A side story or gaiden which occured between the first and second season of the Code Geass tv series. As announced in Otakon, the Code Geass series has been licensed to Funimation. There are plans to release the third episode in Japan next year.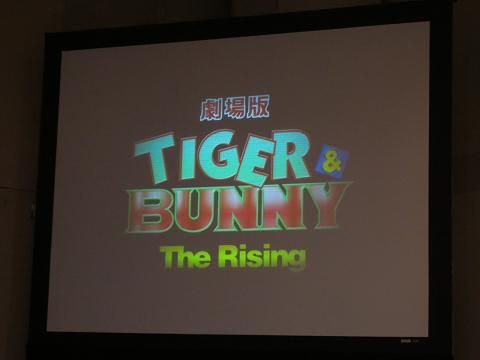 Tiger and Bunny: The Rising is a movie which takes place after the end of the tv series. The theatrical release will be Feb. 8, 2014. Information as to the stateside release will be from Viz Media in the future. There will be information released during the Tiger and Bunny event in Japan on saturday. The same info will hopefully be able to be announced at the Viz Media/Neon Alley panel on saturday in NY.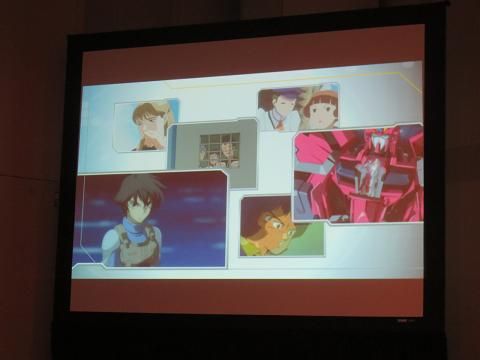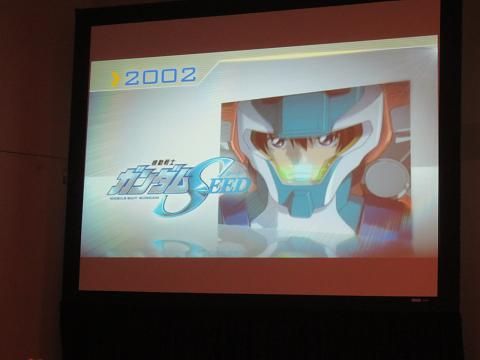 They presented 'The World of Gundam', a video which highlighted the many years of Gundam series, the technology and genre. Fans cheered for their fav series, including Gundam Wing, Seed and currently Unicorn. Episode 1-6 of Gundam Unicorn has already been released. Sasaki-san hoped to show a promo trailer of episode 7, but they're still working on it. Episode 6 trailer was shown instead. They're planning to have episode 7, 'Over the Rainbow' completed in Spring of 2014. Sasaki-san announced that there will be new suits featured in episode 7 which "will bring a gasp to your throats". Rightstuf have re-released the dvds, with two episodes in each, volume 1 and 2 available now with vol. 3 available November 5th. Streaming is available on Daisuki.
Finally, stateside info on the Gundam Seed Destiny HD remaster project! Sasaki-san mentioned that he was involved with the remaster project since 10 years ago when they were still working with regular film. The series has been reshot in HD with new scenes. More information and streaming is available on Gundam.info.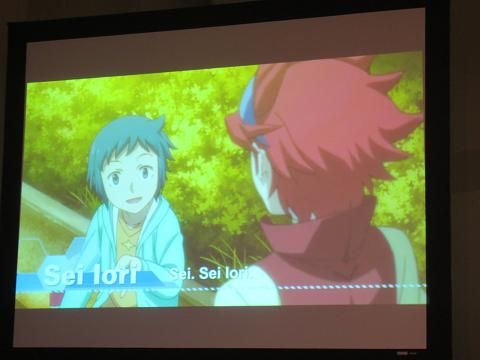 The newest addition to the Gundam franchise is, Gundam Build Fighters which began airing in Japan in October 7. Streaming on Gundam.info. The plot of the series focuses on Gunpla and fighting. One character builds the models and the other uses it in battles in virtual space. (This is sounding alot like Angelic Layer.) For fans of the franchise, it is good to note that there are mobile suits which appear from many different series.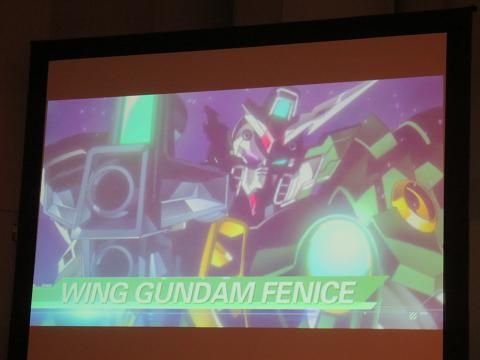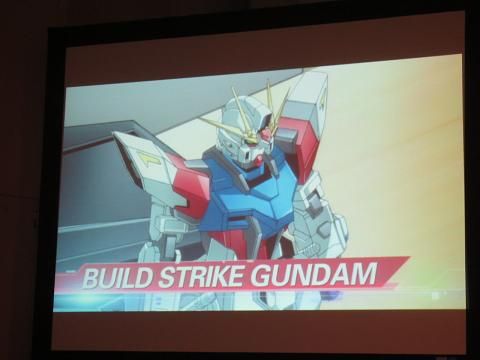 Next year will be the 35th anniversary of Gundam. There will be a number of events in Japan in celebration of the anniversary. There will be 3 releases in 2014, one of which is the previously announced Episode 7 of Gundam Unicorn. Gundam creator, director Tomino Yoshiyuki-sensei will be heading 'G Reko', a new tv series project. (The 'G' is not referring to Gundam but 'gravity'. Tomino previously noted that it will be a new robot series.) Also in the works is something they discussed in the past, Gundam: The Origin. Fans can 'preview' the series with the manga currently being released by Vertical. As with the 30th anniversary, many of the events will take place in the summer. Sasaki-san encourages fans to check them out if possible.
Hagino-san introduced Daisuki, a new streaming protal which is streaming Mobile Suit Gundam, Gundam Z, ZZ, Gundam Unicorn and Gundam Build Fighters. Sasaki-san will also be holding two autograph sessions at the Daisuki booth 2:30-3pm on 10/11 and 11:30-12pmn on 10/12.
Q: I have difficultly purchasing Battle Spirits Sword Eyes region 2 on dvd. Will there be a wider release or ability to ship overseas?
Hagino: I'm really sorry to hear you have difficulty buying it. Unfortunately, we still don't have any licensing for that series here in America. You can enjoy the card game right now. We at Sunrise hope to bring this series to you soon, but it will take some time.

Q: I'm a huge Tiger and Bunny fan and I know the online community is very excited for The Rising. Are there any other upcoming Tiger and Bunny projects that you can talk about?
Hagino: In terms of Tiger and Bunny, we're still so busy with The Rising so we can't even think about what will be next. It's not even something we can't announce, we haven't even thought of it yet. We want to go home and relay your passion about the series. Check out the Viz panel tomorrow though!

Q: For series like Turn A Gundam which was being worked on by [the currently defunct] Bandai Entertainment, will there be some sort of release [like sub only] for anything that was being done at that time?
Hagino: In the process of releasing Turn A Gundam, Bandai Entertainment folded. We have Sasaki-san here who is the manager of the Gundam series and we're thinking of how to proceed forward in America. As we know more, we'll definitely let you guys know.

Q: Will there be a second season of Accel World?
Hagino: I'm sorry, there are no plans for a second season but we'll let them know [you want one.]
The next fan wore a Gundam RX-78-2 t-shirt sold only at the Gundam statue. Sasaki-san remarked, "From Shizuoka?" to which the fan said yes. (The Gundam statue in Shizuoka held a beam sabre.)
Q: Are there any plans for a BD boxset for Mobile Suit Gundam?
Sasaki: We would love to bring everything to the US. There are no plans yet, but if you keep telling different distributors here, it may be possible.

Q: Will Gundam Seed and Destiny be available on dvd?
Sasaki: If we know that there are enough people out here want to buy it, than we'll bring it out. There are no specific plans to but just keep letting us know.
Due to the repeat questions of whether a certain series can be released streaming or physical release, Sasaki-san stated that "It is not because we're withholding Gundam from you, we love to see all of it in English. It is comments like yours that we hope will lead to it. Please keep letting us know."
Q: How many episodes are slated for Gundam Build Fighters?
Sasaki: 25 episodes.
At the end of the panel, I spoke with Hagino-san, asking her if the 'World of Gundam' video was the English version of what was shown at the Gundam theme park in Odaiba. She remarked that it was and that it was actually put together by her. She added that the Gundam theme park video will be revamped to add new series.