The moderator is Robert Napton with the PR director, Maruyama Eri. The intro trailer for Daisuki was shown showcasing series that Daisuki are streaming including Bakemonogatari, Prince of Tennis, Madoka Magica, Lupin III, Sword Art Online, Silver Spoon and Gundam amongst others.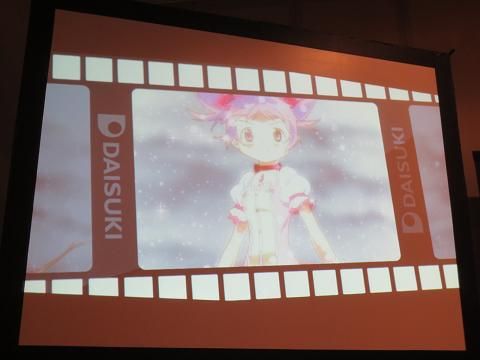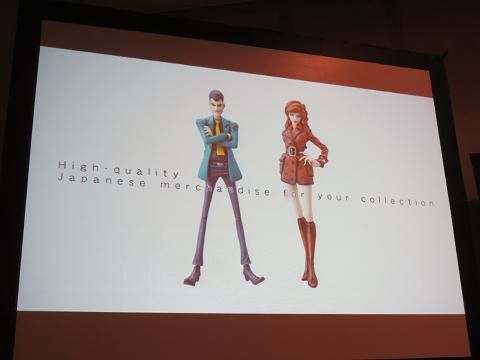 Napton: Daisuki.net began in May 2013. It's a designation for free anime. A group of companies came together to create Daisuki. These companies are Aniplex, Sunrise, Toei, TMS and NAS. All the content is in HD and subtitled.
Maruyama: You can watch everything for free. Full episodes and full series, subtitled in English. As you saw in the trailer, there is a Daisuki store where you can purchase merchandise and figures. We also have a booth with cool items with special Comic Con prizes.
The trailer of Kill la Kill was shown. From the same creators as Gurren Lagann, the show will simulcast every thursday. A audience fav, the second season of Magi is also available every sunday. The first season will also be uploaded completely on Daisuki so people catch up. The second season of Valvrave the Liberator began just yesterday in Japan and the same episode was uploaded just this morning.
Upcoming streams! Cowboy Bebop will be shown care of Sunrise and new content will continuely be added to the site. Just started on Oct. 10, there is new aspect of Daisuki called DaisukiTV. After showing a clip of a Jam Project PV, Napton announced that DaisukiTV will show original content, interviews, comments with creators and musical artists. They're hoping to build a direct connection to the creators in Japan.
The trailer for the ipad app was shown. The free app will stream anime in 720p (while the computer is in 1080p) and will connect to the Daisuki store. Though it is only available on the ipad for the time being, other platforms and devices are being developed.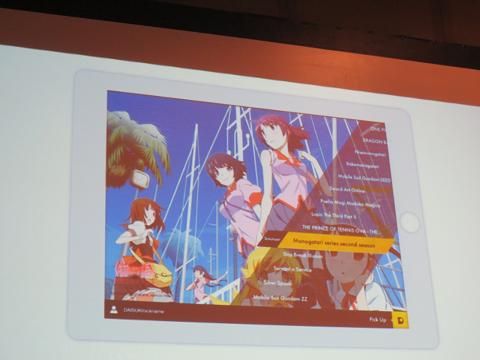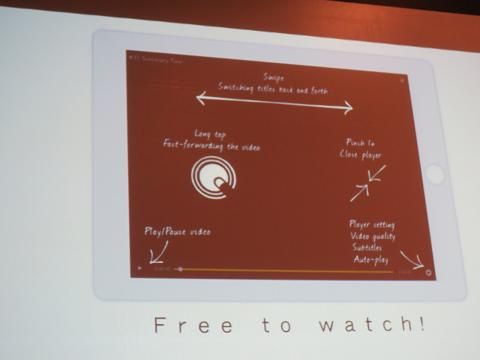 Napton introduced the CEO of Daisuki.net, Shibata Kunihiko followed by the Q&A.
Shibata: Hello, My name is Shibata Kunihiko, the CEO of Daisuki. Our goal is to reach out overseas fans with free anime. We will add more content, classic anime and brand new series. Thank you!
Q: Will Daisuki be releasing movies?
Maruyama: Yes, we are considering it. Besides tv series, we already have OVAs, like Gundam Unicorn as an examples. Movies are under consideration.

Q: Is the website ad supported?
Maruyama: Because the service is free, it is ad supported. The CM is only at the beginning and than you can watch the whole episode. For those that are not familiar with the website, you can watch it for free without registration. You just go to the website, open the page and watch.

Q: Will you keep adding older series like Lupin III or just selected seasons?
Maruyama: We'll see. We'll take that into consideration.

Q: About the online store, it is in yen. When you make a purchase, is the yen converted to dollars?
Maruyama: Daisuki is intended for worldwide fans. If we change it to dollars, perhaps some European fans won't be so happy with that. As a base, we have the Japanese yen.

Q: What titles will you bring to legal streaming services, that other streaming do not?
Maruyama: We are not only focused on simulcast but older shows. Maybe you have seen it, we have Gundam ZZ. This has been localized for the first time. This is the first legal English adaptation of it. We will try to do that in the future as well: content that has not been seen in English, we'll try to get them and translate them.

Q: Earlier this year, you were doing surveys for fans. There were some titles that didn't get many votes. Will you still consider releasing those titles like Dr. Slump?
Maruyama: Thank you for catching up with Daisuki at such an early stage. We had the votes and direct feedback from fans. Cowboy Bebop was so popular so we're now adding it as well as the Monogatari series which was very popular so we added it to the lineup. Gundam of course. But for those series which were not top ranked in the voting will may be added. It's not like "This was not popular so we won't ever add it." So please stay tuned and maybe your favorite series will be added.

Q: Will Kuroko no Basket season 2 be added?
Maruyama: No plans for that right now.

Q: Will series be taken down when others are added? If so, can you provide a warning when you do so?
Maruyama: It hasn't been long since we launched so we haven't decided how to announce it or how early the series will be taken down after a period. Now we have whole episodes from Sword Art Online and Madoka Magica. Definitely, before we take them down, we will announce it so you can watch the whole series again.

Q: Any app for the android?
Maruyama: The team is developing it so please be patient.

Q: Are there any voice actor interviews that you can announce now?
Maruyama: We haven't decided yet. Who will your favorite? *audience laughs* Right now, we have the two main characters from Sword Art Online and a video message from the director of Sword Art Online. Who would you like to see on DaisukiTV?
Napton: *starts polling the audience* Who likes voice actors the most? Who likes directors the most? Who likes illustrators/artists the most? See, the artist always wins.
Maruyama: If anyone has a request, please leave it as a comment on facebook. We will foward them.
Napton: We want a dialogue so please let us know because that is what we want to provide.

Q: The goal of Daisuki was for anime to reach around the world, but why are some anime region locked?
Maruyama: The region restriction is due to if the title is already licensed in that area. For example, if it is airing there than we would like the fans to watch it on tv or on the other local streaming sites.

Q: You mentioned the six companies that are part of Daisuki. Are you looking to expand to other companies?
Napton: Just to clarify, the six companies created Daisuki. It's not as if Daisuki went to them. It's the reverse.
Maruyama: For now we have content from our [six] companies. In the future we hope to expand our service with titles from other companies and studios. *audience applauds*

Q: Are there plans to add other devices like AppleTV and Xbox?
Maruyama: We will add it in the future.

Q: Will the content on DaisukiTV like music video be subtitled?
Maruyama: Now we have the video messages subtitled. The video about Japanese culture is also narrated in English and those parts, interviews in Japanese are subtitled in English.

Q: How current is One Piece and how often will new episodes be added?
Maruyama: We have another streaming schedule for older titles. As we launch, we start with the first episode and than we added one episode each week. We hope you can watch it again in the new resolution.

Q: I like the extra footage you will like voice actor and creator interviews. Are there plans to expand to Japanese commercials, event footage?
Maruyama: DaisukiTV is not limited to the types of clips we have now. We will also add other types of videos. Not just video message.

Q: Live streaming?
Maruyama: We'll see. That is difficult right? We want to be a part of world wide fans, but for some fans in other countries, it will be midnight when we're streaming it. But we will see.
Q: Is Daisuki available in Canada?
Maruyama: Yes, Daisuki is available. To be specific, worldwide except for Japan. *audience laughs* Definitely, you can access it.
Napton: See? You guys get something that no one else gets in Japan! *audience laughs*

Q: Will Hetalia be added? And if it will be added, will it be added all at once?
Maruyama: For now, there are no plans to add Hetalia yet.

Q: I am really glad that you bought Sunrise producer Sasaki Shin-san for an autograph signing. Will you be doing something like this every year at Comic Con?
Napton: I would like to point out as Sasaki-san *points to the back of the room* of Sunrise. *audience applauds*
Maruyama: We're pleased that he is so popular and we hope to continue and maybe we'll have another guest here.

Q: It is a difficult process, but have you thought about releasing audio drama cds [with subtitles]?
Maruyama: Only audio? Maybe we can consider it if you make such a request. Please leave comments for us on facebook than we will see.
Q: Will Daisuki be a way to fund or finance continuation of series that are so popular? Create original content for Daisuki for series that unfinished?
Maruyama: At the moment, there are no plans yet. It is a great idea. It is a dream and it will be cool.

Q: We all know that Daisuki.net is free? But is there any way to make a donation and will be any benefit for the donator?
Maruyama: That is a good system and we will consider it in the future.

Q: Will there be any manga on the site?
Maruyama: For now, there is only anime. No manga, but we will talk to the publisher and maybe in the future other content will be realized.
Napton: *polling the audience* Show of hands, who wants to see manga as well?

Q: What is the resolution size of the videos?
Maruyama: The ipad is up to 720p. The screen is good. I prefer the ipad. We received many feedback about the manual selection of the resolution because sometimes the computer changes it automatically. When you're watching the video, the quality suddenly becomes bad. This can be avoided by watching it on the ipad since you can set it manually.

Q: Simulcast is usually a lower quality. As HD becomes available, will Daisuki update the older episodes?
Maruyama: It will depend on the title. It is not decided yet, but it will depend on the title.

Q: Will there be downloadable content on the website?
Maruyama: For now, we don't have any content to download. But maybe in the future.
There were several rounds of jankenpon to win the awesome figures that Daisuki are selling. Lupin III and Fate/Stay figures as well as an Ein plush!