Con Drama DVD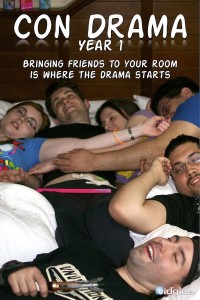 [wp_cart:Con Drama 1 DVD NTSC:price:14.95:end] | $10.00 + $4.95 shipping
Bringing friends to your room is where the drama starts.
From the people who brought the successful web series "Con Goer," comes a new comedy about what most con-goers go through with friends at a con, drama.
Tony (Anthony Zaragoza) has been traveling to conventions of anime, sci-fi, fantasy, and gaming for years. For DerpyCon 2012, Tony invited his friends Chris (Jeff Delisle), "Nekochan" (Megan Halvorsen) and Jason (Matt Schwam). But when Chris invited a new con-goer, Angelina (Candice Morreale), will she be able to get along with "Nekochan?" Will Chris be able to win the cosplay skits with Nekochan and Angelina? Will the five be able to sleep in a king size bed without any drama?
DVD includes the full length feature with special features!
Region code free : NTSC : 43 min : Stereo : Anamorphic Widescreen