Sarah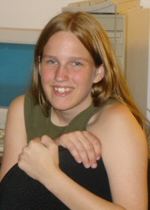 Sarah joined Vidgle in February 2008. She came to Vidgle as a partnership with WRAJ Internet Radio.
Sarah started at Vidgle as a reporter for "Con Goer." Currently, Sarah is a graphic and set designer for Vidgle. Her current on air talent is co-anchoring AZ Tech Talk.
Sarah is a manga/anime and video game addict. She also loves art and is never seen without her sketchbook. She also enjoys camping and native American dancing. She used to be part of a Boy Scout team called 1890 Paumanauke, which is currently disbanded. They traveled all over the East Coast participating at powwows and performing for other Long Island Boy Scout troops. She also loves to read and write, normally she can finish manga in less than an hour. Other books will take a day if they are lucky.
Another thing Sarah likes to do is Cosplay at conventions. She has been to three different conventions but four altogether. These conventions include: I-CON, AnimeNEXT and Otakon, maybe you saw her? Her costume for this year is Prince Marth from Super Smash Bros. Melee so look for her.
Sarah used to have many many animals. but due to an unfortunate year, most of them passed away. She used to have a cat, an orange tabby. Unfortunately, he passed away recently. However, a bowl of water still sits where it used to, but there is no cat to drink from it. Now there is only a turtle, a bird and two chickens. The house is very empty and far too quiet for her.