Mike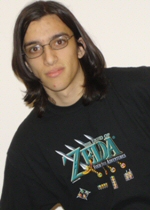 Mike is a studio manager for in-house production for Vidgle. Mike joined Vidgle from WRAJ Internet Radio where he was studio manager since March of 2004. In 2009, WRAJ Internet Radio began sharing its studio for Vidgle's video productions. Studios include Studio 1A, 1B, 1C, and Green Screen Studio 1E.
Mike is also a technical advisor for Vidgle's parent company's computer network.
He is known for playing video games and is an avid gamer and enjoys camping in Maine.