Fred Cain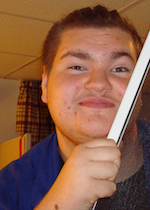 Freddie joined Vidgle when it opened in 2008; He is on air personality for The Con Goer and FantAnime and also edits a lot of The Con Goer episodes.
First getting interested in film and editing after seeing a public access show called The Slack Pack. He soon started to make short films with his friends and moved on to editing skateboard films of his friends. In high school he attended BOCES Technical School for TV and Digital Film Production.
Freddie has varying interests from anime, dungeons and dragons, video games, to indie films, old horror films, and finding new and interesting bands to listen to.