Candice Morreale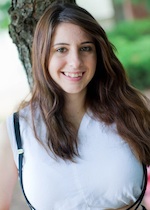 Candice has been entertaining audiences as a dancer since she was three. At Suffolk County Community College is where the Acting began.
At SCCC she was cast as Doctor and Ivy in The Skin of our Teeth and Iggy in Runaways. She received her A.S. in Acting from Suffolk and got her internship at Walt Disney World as a Character Performer. Let's just say she was the "big cheese" at the Magic Kingdom.
Candice's next stop was Arcadia University where she was cast as 10 Year Old Girl and Women 2 in Virginia Monologues and while there is when her film credit start with Doujinopolis as Terra Edre and also was the Sound Designer for Criminal Hearts. Candice received her B.A. in Theatre Arts and English in May 2011.
Candice debut with Vidgle on Con Goer at Anime Next 2011. Candice is glad to be part of the Con Goer reporting crew.
Photo credit: Dawen Huang